Delhi + Agra + Jaipur + Udaipur + Jodhpur + Jaisalmer
"To other countries, I may go as a tourist, but to India, I come as a pilgrim." – Martin Luther King, Jr.
Temples of Gold, the Festival of Colour, decked out trucks, spicy food, and the Taj Mahal are just some of the reasons we are heading to India in 2020. India is a place to be experienced not visited, be prepared to join the beautiful chaos and explore the magical city as we take you through the most curated itinerary imaginable.
January 27 - February 6, 2020
10 Nights / 11 Days
Group Size: 16
*12 spots open*
*VISA REQUIRED*
Immerse yourself in culture and join us as we explore the pink city and the city of lakes in Rajasthan, watch the sunrise in Agra overlooking the Taj Mahal, and get ready for the most experiential trip of your life!
Here's a little of what you can expect:
*Luxury Hotel Accommodations*
*Curated Dining Options Paired with Local Delicacies*
*Stroll through Golden Palaces + Historic Forts*
*Take an Authentic Cooking Class*
*And a Squad of Girls to Keep You Company!*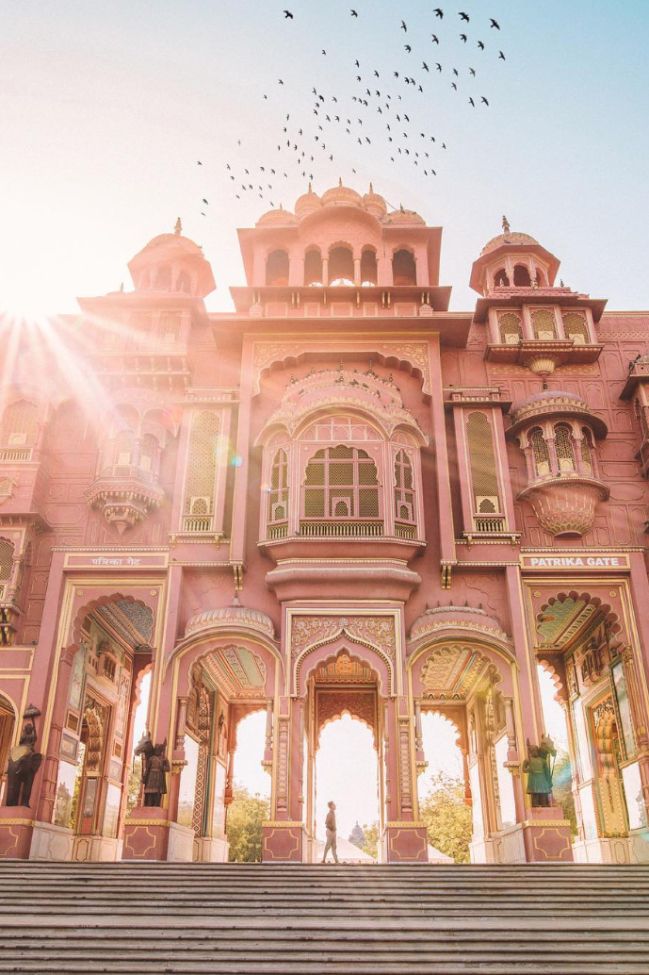 Shared Accommodations in Luxury Hotels
All Ground Transportation Including Airport Transfer
All Meals (Breakfast, Lunch & Dinner)
Visit the Jamma Masjid – One of the Most Iconic & Historic Mosques in India
Visit to Qutub Minar – India's Largest Minaret
Humayun's Tomb - UNESCO World Heritage Site
Visit the Gate of India + Lakshmi Narayan Temple
Sunrise at One of the 7 Wonders of the World - Taj Mahal
A Visit to Agra Fort - UNESCO World Heritage Site
Henna Painting
Rajasthani Dances with Dinner
Enjoy Saree Tying at Textile Shops
Boat Ride on Lake Pichola
Visit to Jaisalmer Fort – One of the Oldest Living Forts in the World
Visit Historic Haveli and Palaces, Including the Maharajah Palace and Palace of Flowers
1 Night of Glamping in the Desert, Excursion to the Sand Dunes, and Camel Rides
Knowledgeable & Local Tour Guide
Swag Bag + More!
*Flights not Included*
Early Bird: $3700 CAD
7 Month Payment Plan
$528.57 CAD July 2019 - January 2020
How does it work?
It's simple. Payments are based on the number of months left until we depart for the trip, you simply divide the total cost by the number of months left (up to 14 months maximum) until departure.
If you're interested, register today and we will send you a detailed invoice with your payment plan information.
ACCOMMODATIONS & EXPECTATIONS
All of our accomdations are shared based on double or triple occupancy. The TGT vision is built on ensuring that women from all walks of life are able to experience travel with other women. We keep all of our accommodations shared with other girls on the trip. This allows you to get out of your comfort zones and build relationships with others female travellers.
We do our best to enhance our expriences the best way possible and spend months building our itineraries. Our Co Founders travel to each destination prior to to ensure our partners, accomdations are up to par. We take pride in being a tour operator that falls in between affordable luxury where some experiences can be lux while others will be authentic and local.
DINING EXPERIENCES
All of our dining options are balanced between lux, casual and local. Daily breakfast will be served at the Villa for your convenience prepared by our chef at the Villa.
Lunches and Dinners will be a variety of options between on the go, casual and curated meals.
We always host a special welcome dinner of on all our Trips. This one is always a surprise and curated specially by our TGT Team.
Each meal covers a main plate and a non - alcoholic beverage. Some meals have shared appetizers and starters provided by us. If you wish to order an alcoholic beverage or extra food you will have to pay separately.
We take into consideration your dietary restrictions. Once you sign up you will receive your welcome package where you will fill out your dietary needs. All of our dining options will have vegetarian and vegan options. You may also request for additional dietary needs.
EXCURSIONS AND TOURS
All of our tours and partners are carefully selected before hand. All of our tour operators are local licensed tour companies. We only work with the best!
All excursions and tours are optional on the trip. You are more than welcome to skip out on on any tour if need be, however we do encourage you to take full advantage of the itinerary.
FREE TIME - you will have time to yourself to discover the city on your own. Most girls take this time to go shopping, or simply pamper themselves with a Massage. We offer add- on packages which you can take full advantage of. This will be given to you upon signing up.
We created The Girls Trip to make it easy for women to travel the world in style. Sicker then your average tour company, we curate experiences in bucket-list destinations and make them affordable through a monthly payment plan. If you've ever wanted the champagne lifestyle on a lemonade budget, then pack your bags, you're in the right place.
If you're ready to break through your comfort zone, experience epic moments that will last forever, and taste the luxury life with a crew of new besties… then this is the tour company for you.
Fill out the form below if you are interested in tripping with us to India! Disclaimer: A visa is required to visit India and it will be your responsibility to obtain it. You will hear back from our team within 48 hours after we receive your registration form below.
Upon confirmation, you will be invited to a Private Facebook Group and WhatsApp chat where you will have access to all trip details leading up to departure and you will have a chance to get to know your tribe!
We can't wait to meet you girls!